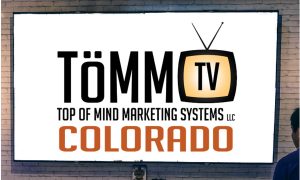 Host ToMM TV in your business and you have a new and easy way to grab your customer's attention, stimulate new inquiries, and increase sales with Tomm TV's FREE digital signage.
Displaying digital images of your menu items or products and services to your customers while they wait increases revenue.  Most importantly, it does this at no cost to you!
If your location qualifies to host ToMM TV, we will install a high-definition TV in your business. ToMM TV screens will showcase images of your products and services mixed with fun facts and other approved, and non-competing, advertisements. 
The approximate time allotted to each activity is:
30% – to promoting your business.

20% trivia and fun facts to maintain audience attention. 

The remaining time is sold to local advertisers that do not compete with your business in any way, shape, or form. 
ToMM TV handles all of the graphic design, photography, equipment, and installation with no expense to you!
Call us today to see if you qualify to host ToMM TV.